What's Happening @ NLMCC
Click on calendar item to read details.
OUR VISION
We are…
ORDINARY PEOPLE
Believing…
GOD's LOVE IS FOR ALLs
Called to…
REVEAL GOD'S PRESENCE IN EVERYONE
We are an inclusive, diverse, Christ-centered church, in which you have the freedom to be who you are, participate in community, explore spiritual transformation, and be part of social action.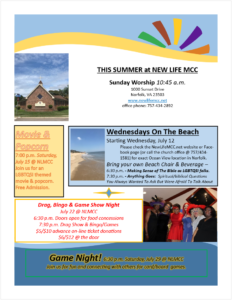 WHAT'S HAPPENING @ NEW LIFE MCC
WEDNESDAYS ON THE BEACH –
Bring your beach chair & beverage & join us @ Community Beach Park…
700 E. Ocean View Ave. (take Chesapeake to Ocean View turn left and you are there).
6:30 p.m. Being LGBTQSI & The Bible
7:30 p.m. Spiritual/Biblical ?'s You Always Wanted To Ask…
~Getting to know folks at NLMCC. Join us for Dinner & Conversation.
YNOT Pizza in Ghent
1517 Colley Ave Norfolk, VA
Thursday Aug 17th at 6 pm.
See Betty Ambrose for details.
2:30 p.m. SUNDAY August 20th at NLMCC: Special Tribute to Rev. Delores Berry
POPCORN n TUMBLER fundraiser.

Please see Bianca for details.
Movie Night @ NLMCC Aug. 19 7:00 p.m.
Meals-To-Go Prep Day Aug. 26 10:00 a.m.
Game Night @ NLMCC Aug. 26 6:30 p.m.
POOL PARTY POTLUCK fundraiser.

Aug. 27 after worship @ Bonnie & Mary's
SAVE THE DATES: November 3-5 NLMCC 40th Anniversary Celebration
Amazon Smile
– NLMCC is now registered. Here is the link to use for NLMCC to get money back from your Amazon purchase:
https://smile.amazon.com/ch/54-1132399
FROM THE BOARD OF DIRECTORS:
The following Board members have been selected and agreed to serve as officers for the coming year: Bianca Avery-Poland, Vice Moderator, Casey Hartman - Treasurer, James Parker - Assistant Treasurer, Dennis Southers - Clerk, Gene Dudney - Assistant Clerk, Odessa Johnson - Risk Manager.
THANK YOU FOR YOUR CONTINUING GENEROSITY AND FAITHFULNESS IN GIVING!